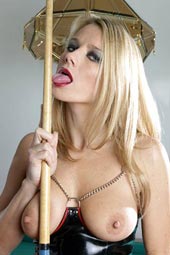 Federica Tommasi, was born in Verona in a well-to-do family one month of April of the 70's.
She was a very vivacious child, "daddy's sunshine". She attended with excellent results primary and secondary schools, and went on to read Economics at the University of Modena. However, she dropped out halfway through university in view of the success she encountered working as a broker at the stock-exchange. "Continuing my studies meant not being able to look after my business".
During her university years she had her first transgressive experiences. "I still remember my first time with a woman: she was one of my teachers, and one evening, driven by curiosity, I went to a private club and met her there. Once the initial embarassment was overcome she invited me over to her apartment and I went to bed with her and her husband. That was an experience which made me understand who I really was". But the ups and downs of the stock exchange soon drove her to less uncertain and risky ups and downs: first those of the "hard movies" and then those of erotic movies with Tinto Brass in his "Fallo! ( Do it! )" where her erotic potential explodes in a perturbing way. With Tinto Brass their shared roots of the Veneto region were the catalyst for a quick and cheerful mutual understanding.
Andrea Nobili, who worked with her on the set of "Fallo!", launched her in the "hard movies" business with "Rifallo" [do it again], where Federica is the undisputed protagonist of strong and decisive scenes which never gave her any problems. "Working in the hard movies business gives me an opportunity to find my limits and to express all my sexual potential".
Federica Tommasi is one of the most sought after actresses "hard" in the Italian film industry, and this allowed her to become "the porn-star" most cherished by Italians. Her looks of "young teacher" or of "sexy secretary" and her real acting and technical skills make her so interesting.
At the present time Federica lives between Verona and Peschiera del Garda. "Remaining too long in the same place bores me to death, I need to move about and to sleep in hotels from time to time".